With seasonality, originality & sustainability as top priority, we locally source everything from our game to our fish to our vegetables. Myself and my better half, Carlie Glew, have been cooking side by side for nearly a decade and are seriously passionate about providing enough choice to cover all your foodie temptations. We offer an array of smaller snacks for those looking to nibble, pub classics like our "Seven Best" battered Brixham cod to satisfy the feasters, and irresistible delights for those with a sweet tooth.
Our sister business, The Seven Stars Café, provides the pub with cracking freshly made pizzas, available from noon to closing time, eat in or takeaway, but ensure you are hungry!
We offer something for everyone and are happy to accommodate dietary requirements whenever possible. We look forward to every visitor and hope to have the opportunity of cooking for you in the near future.
Head Chef, Charlie Dingley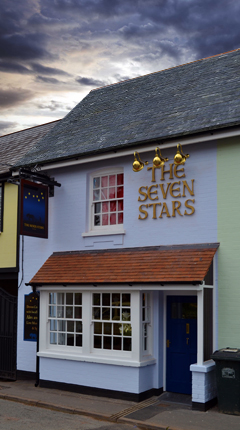 Following a short hiatus, the The Seven Stars reopened under new management in 2015. On first visit, our little pub is regularly described as 'The Tardis' – small and unassuming from the outside, ballooning in size and exceeding expectations as you adventure inside. Enter through our curtained entrance and you're greeted by a cosy log burner and wooden floored restaurant area capable of accommodating up to 40 diners. Our oak bar serving Devon ales, ciders and lagers will more often than not be surrounded by friendly locals chatting away, and a pristine white tiled back bar with over 20 local gins and 30 international whiskies should keep the premium spirit lovers intrigued for hours.
Our lounge area towards the back of the pub has a trio of Chesterfield furniture, and in our games room our more competitive guests can tackle the pool table or darts board. We have a variety of board games to while away the time and the Secret Garden outside is a great way to escape all the action indoors, providing a tranquil sun trap throughout the day.
We are dog friendly, and have tasty complimentary treats for them to enjoy while they accompany you during your visit.

T: 01392 834 887 | E: INFO@SEVENSTARSKENNFORD.CO.UK